Revolutionism as Revisionism: Early British Views of Bonaparte, 1796 - 1803.
(1995)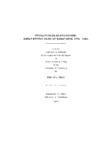 View/Open
Type of Content
Theses / Dissertations
Thesis Discipline
History
Degree Name
Master of Arts
Publisher
University of Canterbury. Department History
Collections
Abstract
This thesis examines British views of Napoleon Bonaparte from 1796 to 1803. It argues that a chronological approach is the most appropriate because of both the relative neglect of the subject,and because of faults in the existing historical literature. Generalisations in this literature have been formulated on the basis of evidence juxtaposed across the entire period between 1796 and 1815, which has resulted in a distorted picture in which shifts in perception cannot be detected. The treatment of events and themes in the historiography is also coloured by teleology and Whiggish assumptions, while the most recent study has compounded these problems through the application of sophisticated techniques of literary analysis. This thesis attempts to avoid these errors in the construction of a clear picture of early British views of Bonaparte. The chapters are based on defined periods and explore the subject in event-based contexts. Material from outside the defined periods is not included, thus creating credible generalisations which reflect contemporary beliefs. The final chapter examines the deployment of the language of tyranny with reference to Bonaparte and comparisons made with Cromwell in the three years following his assumption of political power. The sources for the investigation are a selection of newspapers, pamphlets and magazines, and a section of the thesis is devoted to considering the implications of their use. The thesis posits a shift in historical understanding from the intrinsic significance of a Great Man conception to an emphasis on the primacy of revolutionism. Napoleon Bonaparte was regarded as a revolutionary general actively involved in the transmission of republican ideologies in Italy and Egypt from 1796 - 99. The thesis argues that a shift in paradigm occurred after the coup of Brumaire in November 1799, which installed Bonaparte as the military ruler of a revolutionary state. The chronological examination of the news reporting and commentary in the years from 1800 - 1803 suggests that a further shift to seeing Bonaparte as a military dictator seems to have occurred. Although this shift has been difficult to locate precisely, it was probably stimulated by Bonaparte's assumption of office for life in the summer of 1802.
Rights
Copyright Phillip John Gray