Impacts of Porous Pavements on Soil Environment and Street Tree Growth
(2011)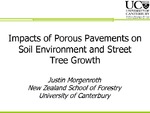 Type of Content
Conference Contributions - Other
Publisher
University of Canterbury. School of Forestry
Collections
Abstract
This presentation will showcase the complete results of a two-year experimental study into the relative effects of porous and impervious pavement on urban soils and trees. The study contrasts a factorial combination of pavement types and profile designs in order to comprehensively understand the effects of porous pavement in urban environments. The objective was to determine whether porous pavements would prove beneficial to planted trees in hardscape settings. Key results to be presented include the effect of pavement type and design on root abundance, diameter, and biomass, as well as stem height, diameter, and biomass. The response of these tree growth factors will be linked with the measured impact of pavements on soil moisture, aeration, pH, and nutrient availability. Though some of these results have previously been presented and published, this presentation will, for the first time, combine all aspects of the study and, in doing so, challenge the perceived benefits of porous paving.
Citation
Morgenroth, J. (2011) Impacts of Porous Pavements on Soil Environment and Street Tree Growth. Sydney, Australia: International Society of Arboriculture Annual Conference, 23-27 Jul 2011.
This citation is automatically generated and may be unreliable. Use as a guide only.
ANZSRC Fields of Research
30 - Agricultural, veterinary and food sciences::3007 - Forestry sciences::300710 - Tree nutrition and physiology
33 - Built environment and design::3399 - Other built environment and design::339999 - Other built environment and design not elsewhere classified
05 - Environmental Sciences::0503 - Soil Sciences::050399 - Soil Sciences not elsewhere classified