What Makes Art Good?A Case Study of Children's Aesthetic Responses to Art Works
(2011)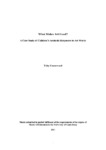 Type of Content
Theses / Dissertations
Thesis Discipline
Education
Degree Name
Master of Education
Publisher
University of Canterbury. Educational Studies and Human Development
Collections
Abstract
This study explores what 10-12-year-old students say they like and value in works of visual art. As the participants talk about their own and other people"s art works they are formulating and expressing aesthetic responses and beginning to shape their individual aesthetic awareness. Because of the age of the participants, the exploration is framed in terms of "what makes art good". The research was prompted by the introduction and implementation of the New Zealand Curriculum (2007), which not only positions art as a core area of learning, but also outlines values and key competencies that characterise a constructivist approach to knowledge. Such an approach requires active engagement by learners and suggests that it is important for teachers to understand their students" values and views. However, in the field of art education there is little published material that examines the views and reactions of students. A broadly qualitative approach to the case study was taken, drawing particularly on phenomenography and narrative. The study found that 10-12 year-old students do actively make judgements about art works, and while there are common themes that occur repeatedly, the bases of such judgement vary from student to student. The study also found students" ways of approaching art-making varied, with some, for example, concerned predominantly with the technical process while others were more interested in imagery or narrative intention. The thesis argues that it is important for teachers to be aware of how their students individually process their aesthetic responses in order to develop relevant and appropriate programmes.
Keywords
art; 10-12-year-olds; aesthetic responses
Rights
Copyright Toby Greenwood
Related items
Showing items related by title, author, creator and subject.
Fletcher, J.

;

Nicholas, K.

(

University of Canterbury. School of Teacher Education

,

2016

)

Learning to read is a complex process with many people being influential in supporting the success of students. As young adolescents often tend to show a lower motivation to read and also as at this critical time in their ...

Greenwood J

;

Hasnat M

(

2017

)

How will data change if it is presented not only simply in written text but through dramatic presentation? The data for this exploration comes from a doctoral project investigating rural parents' engagement in education ...

Williams, Judith Airini

(

University of Canterbury. Educational Studies and Leadership

,

2013

)

I investigated the problem of why some students do not implement the feedback they are given, when the feedback they receive is formulated in accordance with what we know about best practice in the giving of feedback. I ...