Some aspects of the biology of Anthoxanthum odoratum L.
(1968)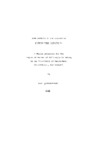 View/Open
Type of Content
Theses / Dissertations
Degree Name
Doctor of Philosophy
Publisher
University of Canterbury. Botany
Collections
Abstract
Several aspects of the biology of Anthoxanthum odoratum have been studied in this thesis. The results are based on evidence obtained from the literature and on findings from experiments carried out by the candidate. This thesis has been arranged to give a balanced picture of the biology of sweet vernal grass without over-emphasis on the experiments carried out as it was felt that this would disjoint the lay-out. The main experiments are contained in Chapters 2, 5, 6 and 7. Since A. odoratum is a very polymorphic grass, plants have been collected from five localities in New Zealand (Kaikohe, Te Awa, Lincoln, Gore, and Porter's Pass) to reduce bias in the experimental results. Although this grass has been in New Zealand for about one hundred years only, physiological and morphological differences were found to occur among the plants from these localities. These findings may reduce the significance of the results obtained with A. odoratum as an indicator plant for nutrient availability in different soils. Therefore, it has been recommended in Chapter 6 to use only those A. odoratum plants with known-fertility response pattern for nutrient availability studies. In Chapter 10, the importance of this ecotypic differentiation, its evolutionary significance and its use for plant breeders has been discussed. Only incipient ecotypy could be recognized and no new taxa have been described.
Rights
Copyright N. C. Lambrechtsen