Risk assessment methods in road network evaluation : a study of the impact of natural hazards on the Desert Road, New Zealand
(1988)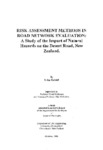 View/Open
Type of Content
Theses / Dissertations
Thesis Discipline
Civil Engineering
Degree Name
Doctor of Philosophy
Publisher
University of Canterbury. Civil Engineering
Collections
Abstract
This study investigates hazards that have the potential to close the Desert Road, which is part of New Zealand's major north-south link, State Highway 1. It provides a case study for the application of risk assessment methodology to the evaluation of road networks. The hazards that are investigated include snow and ice conditions, volcanic eruptions and lahars, seismic events, and traffic accidents. All of these hazards have the potential to close the Desert Road. For each of the hazards, a stochastic model is developed to determine the probability of the hazard occurring and the resulting road closure duration. The vulnerability of alternative routes through the Central North Island to these hazards are also evaluated. A traffic assignment model, SATURN, is used to predict the disruption caused by closures of the Desert Road and its alternative routes, quantifying the economic cost of closures to the New Zealand economy. Monte Carlo simulation is then used to find the probability distribution of the average annual cost of closures due to each hazard. Mitigation options that may either reduce the probability of closure occurring, or reduce the duration of closures, are investigated. The new risk of closure with the mitigation in place is compared to the existing risk of closure, to find the probability distribution of the benefit-cost ratio for each mitigation. A computer based risk optimisation program is described that can help select the portfolio of mitigation options that will optimise the risk reduction attained for a given expenditure.
Rights
Copyright Erica Dalziell
Related items
Showing items related by title, author, creator and subject.
Syed, Yasir Imtiaz

;

Uma, SR

;

Prasanna, Raj

;

McDonald, Garry

;

Horspool, Nick

(

2017

)

MOTIVATION This project is FP6 QuakeCoRE funded project with an aim to develop a linkage structure framework to link various models necessary for the estimation of geospatial hazard intensities, infrastructure component ...

Maurer, B.

;

Green, R.

;

Cubrinovski, M.

;

Bradley, Brendon

(

University of Canterbury. Civil and Natural Resources Engineering

,

2013

)

Allen, Nicole

;

Wilson, Thomas

;

Kennedy, Ben

;

Scott, Allan

;

Stewart, Carol

(

2019

)

Volcanic eruptions can produce many hazards which can impact society yet many cities, including Auckland, are built on or near active volcanoes. Auckland rests on the Auckland Volcanic Field (AVF), an active volcanic field ...