Spectral analysis classification sonars
(1986)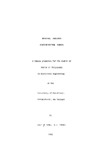 View/Open
Type of Content
Theses / Dissertations
Thesis Discipline
Electrical Engineering
Degree Name
Doctor of Philosophy
Publisher
University of Canterbury. Electrical Engineering
Collections
Abstract
Sonar target classification based on frequency-domain echo analysis is investigated. Conventional pulsed sonars are compared with continuous transmission frequency modulated (CTFM) sonars, and differences relating to target classification are discussed. A practical technique is introduced which eliminates the blind time inherent in CTFM technology. The value and implications of modelling underwater sonars in air are discussed and illustrated. The relative merits of auditory, visual and computer analysis of echoes are examined, and the effects of using two or more analysis methods simultaneously are investigated. Various statistical techniques for detecting and classifying targets are explored. It is seen that with present hardware limitations, a two-stage echo analysis approach offers the most efficient means of target classification. A novel design for three-section quarter-wavelength transducers is presented and evaluated. Their inherently flat frequency response makes these transducers well suited to broadband applications. The design philosophy and construction details of a Diver's Sonar and an underwater Classification Sonar are given. Sea trials reveal that using the Diver's Sonar, a blind-folded diver can successfully navigate in an unknown environment, and locate and classify targets; using the Classification Sonar, targets may be located and classified using either operators or computer software.
Rights
Copyright Dolf de Roos
Related items
Showing items related by title, author, creator and subject.
Ibrahim, Musibau Adekunle

(

University of Canterbury

,

2017

)

This thesis proposes, develops and evaluates different multifractal methods for detection, segmentation and classification of medical images. This is achieved by studying the structures of the image and extracting the ...

Pretty, Christopher Grant

(

University of Canterbury. Mechanical Engineering

,

2012

)

Hyperglycaemia in critical care is common and has been linked to increased mortality and morbidity. Tight control of blood glucose concentrations to more normal levels can significantly reduce the negative outcomes associated ...

An integrated literature review has been undertaken with regards to the hydrological regime and fluvial geomorphology of the Ross Sea Region, Antarctica. The findings have been applied to develop a pilot framework for a ...