A Comparison of Emotions Elicited in Fair and Unfair Situations between Children with and without Behaviour Problems
(2006)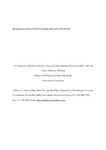 Type of Content
Journal Articles
Publisher
University of Canterbury. Psychology.
ISSN
0827-3383
Collections
Authors
Averill-Roper, G.,
Rucklidge, J.J.
show all
Abstract
This study compared emotions, assessed during fair and unfair situations, between children (aged 8 to 11) with and without behaviour problems, controlling for SES, depression, anxiety, IQ and educational achievement in order to study the relationship between emotional responses and subclinical antisocial behaviours. Group allocation was determined by parent and teacher reports on the CBCL and the Conners' Rating Scales. Participants imagined themselves in six scenarios (two unfair, two fair and two neutral) where they were either punished or not punished and then rated different emotions from 1 to 7. Emotions varied significantly by group depending on the type of scenario presented. The unfair scenario with a positive outcome for the participant produced the greatest group differences with the behavioural group reporting emotions consistent with antisocial theory such as less guilt, anger and fear, and more pride and happiness than the controls. The results are discussed in terms of early interventions.
Citation
Averill-Roper, G., Rucklidge, J.J. (2006) A Comparison of Emotions Elicited in Fair and Unfair Situations between Children with and without Behaviour Problems. International Journal of Special Education, 21(2), pp. 140-154.
This citation is automatically generated and may be unreliable. Use as a guide only.
Keywords
emotions; conduct; equity; equity; behaviour