Hydrogeological and geophysical investigation of the groundwater system in the Kaituna Valley, Banks Peninsula.
(1988)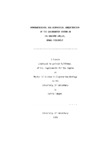 View/Open
Type of Content
Theses / Dissertations
Degree Name
Master of Science
Publisher
University of Canterbury. Geology
Collections
Abstract
In the Kaituna Vally an intensive change in land use has produced an increased demand for water, particularly groundwater. The present study was undertaken in order to provide an adequate data base to develop appropriate water management strategies for the Kaituna Valley and other similar catchments in the area. Shrinkage fractures within lava flows control the vertical movement of water whilst horizontal water flow occurs mainly within brecciated lava. Chemical and environmental water analysis indicate that local precipitation through volcanic fractures is the main mechanism for groundwater recharge in the area. The impermeable layers (tuff and ash) between lava flows and subvertical dikes divide the subsurface volcanic rocks into a number of groundwater compartments each with its own water level and outlets. Outlets will be into adjacent to the valley floor sediments. The outlet through the gravelly layer in this zone is the main mechanism of groundwater replenishment within the valley floor deposits. Geophysical investigations have identified two aquifers below the valley floor. The lower aquifer with an average transmissivity value of 4.45 x 10-3 m2/s has a variable thickness ranging between 2 m to 60 m. the average transmissivity for the upper aquifer is 14.5 x 10-3 m2/s with an average thickness of 24m. Using the hydrological water Balance for the monitored water year (June 1986 – may 1987), the total rate of recharge to the groundwater system was 86 mm out of 1900 mm total rainfall. If groundwater is to be used for drinking, it must be treated for excessive iron content in well M36/1344 bot.. of which draw from the lower aquifer.
Rights
Copyright Parviz Namjou