Isolation and characterization of the putative MIH gene sequence from the lobster Jasus edwardsii.
(1996)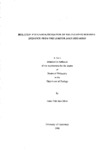 View/Open
Type of Content
Theses / Dissertations
Thesis Discipline
Zoology
Degree Name
Doctor of Philosophy
Publisher
University of Canterbury. Zoology
Collections
Abstract
The X-organ sinus gland complex in the crustacean eyestalk is an important source for several neuropeptides, among which is the moult-inhibiting hormone (MIH). The aim of this thesis was to isolate and characterize the gene for putative MIH from the lobster Jasus edwardsii. Previous studies have demonstrated an immunological and functional relationship between vasopressins and the moult-inhibiting hormone of crustaceans. Using primers based on the rat vasopressin gene, I was able to amplify by polymerase chain reaction, a 947 bp sequence from DNA of the lobster Jasus edwardsii. Northern blot analysis showed that the 947 PCR sequence could detect mRNAs extracted from the epithelia, eyestalk, heart, hepatopancreas and muscle, but one mRNA was predominantly expressed in the eye stalk. Sequence analysis of the 947 PCR product revealed an intron/exon splice junction, a protein coding region, and a stretch of repetitive sequences which translated into a metallothionein-like protein. By in situ hybridization, the 947 PCR sequence detected mRNAs synthesized in the neurosecretory regions of the eyes talk, and the expression of these genes appeared to be related to the moult cycle. Using this PCR product as a probe, three different cDNA clones, peJK1, peJK2 and peJK3, were isolated from a lobster eyestalk cDNA library. In situ hybridization studies and northern blot analysis showed that peJK2 and peJK3 were expressed predominantly in the eyestalk and to a lesser degree in the epithelia, whereas peJK1 was expressed in the epithelia, eyestalk, heart, hepatopancreas, and muscle tissue of the eyestalk. Sequence analysis of the cDNA clones showed 96.6% homology between peJK2 and peJK3, and between 44-51% sequence identity with published putative MIH cDNA sequences from three other species, Carcinus maenas, Callinectes sapidus, and Penaeus vannamei. Analysis of the deduced amino acid sequences of peJK2 and peJK3 revealed the presence of a signal peptide which is characteristic of secretory proteins. Sequence alignment of the deduced amino acid sequences with other eyestalk neuropeptides of the CHH/MIH/VIH family suggested that the cDNA clones isolated from J. edwardsii contained novel sequences which were different from this group of peptides. Based on these results, peJK2 and peJK3 do not appear to code for the putative MIH neuropeptide as found in other crustaceans, but may be coding for a MIH-like peptide.
Rights
Copyright Jenny Gaik Imm Khoo