Talking Sexualities New Zealand and Danish Students' Stories about Sexual Negotiations
(2011)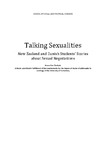 View/Open
Type of Content
Theses / Dissertations
Thesis Discipline
Sociology
Degree Name
Doctor of Philosophy
Publisher
University of Canterbury. School of Social and Political Sciences
Collections
Abstract
Poststructuralist and other critical analyses of sexuality, gender and identity are used to examine how New Zealand and Danish young adults drew on and challenged available discourses as they responded to representations of sexual interactions in the film Chasing Amy. The conversations about sexual practices in mixed gender, women only and men only focus groups illustrate the complex ways in which people construct their identities using subject positions available to them in different contexts as they responded to the movie, the talk of others and the researcher. The strengths and limitations of this approach to facilitating talk are examined as well as the conversations that occurred. The ways in which researchers in New Zealand and Denmark are themselves discursively positioned as theorists and investigators of gender and sexuality is also examined. The thesis illustrates how multiple connections and differences emerge across national and local environments. Talk about sexual negotiations among young adults recruited through university student networks suggests that assumptions about agency, sexual autonomy, reciprocity and women's and men's equal right to enjoy sex are still gendered while also challenging traditional understandings about men, women and sexual pleasure. This was, for example, highlighted in talk about receiving and giving oral sex in long-term heterosexual relationships and the 'need' for women to explore their bodies and become 'capable (s)experts' through masturbation. The thesis finally explores how gendered collective and individual identities sometimes intersect with social identities associated with ethnicity, religion, nationality and sexual identification. These intersections disrupt attempts in cross-national projects – including this thesis research – to form conclusions about national differences and other social identities.
Keywords
Sexual negotiations; poststructuralism; critical analysis; gender studies; focus groups; cross-national study; social construction; facilitating talk; difference and connections; recruiting participants; sexual agency; intersectionality
Rights
Copyright Karen Due Theilade
Related items
Showing items related by title, author, creator and subject.
Beddoe L

;

Maidment J

;

Hay K

;

Ballantyne N

;

Walker S

(

2017

)

Holthouse, Stephen Mark

(

University of Canterbury. Psychology

,

2009

)

The present study investigated the construct of characterising societies as being either individualistic or collectivist as topics of research in the field of cross cultural tolerance. Using scenarios to describe behaviours ...

Tillard G

;

Cook KJ

;

Gerhard D

;

Keast L

;

McAuliffe M

(

2018

)

In summary, there is widespread support for the use of group discussion in reflective practice (Caty et al., 2015). The interaction with peers allows for the exchange and comparison of beliefs and behaviours, perspectives ...