Andrea Zani (1696-1757) - life and works - through a study of the documents together with a collected edition and thematic catalogue.
(2010)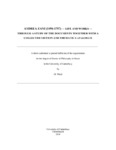 Embargoed for:
24
Type of Content
Theses / Dissertations
Degree Name
Doctor of Philosophy
Publisher
University of Canterbury. Centre for Fine Arts, Music and Theatre
Collections
Abstract
Among the numerous eighteenth-century composers of merit whose music remains virtually unknown and unavailable in modern editions, and whose names are absent from the many items of Baroque literature to date, is Andrea Zani (b. Casalmaggiore, 1696-d. Casalmaggiore, 1757). Yet his skill saw him ranked as a virtuoso, and his compositions were published in Vienna, Paris and Amsterdam, as well as his native Italy. Despite the fact that most of his output is extant and accessible either in manuscripts or early prints in the archives of Europe, the United States of America and the United Kingdom, no thorough study of these works has been made. The scant biographical information available on Zani lies in a succession of brief and lamentably incomplete accounts, traceable to one early nineteenth-century writing. A comprehensive study of Andrea Zani and his music has yet to be made. The objectives (and thus the structure) of this dissertation are to present a definitive performing edition of Zani's entire output and to compile a biographical account that will substantially augment and correct much of the biographical information that is available. These objectives are interdependent. A biography may be illuminated by information found in music sources – dates of compositions or dates and places of publications, names of dedicatees (and even of specific occasions) are all indicators of avenues of research, and as this is undertaken, isolated facts gradually turn into an expanding and yet increasingly tightly-knit network of detail. The music itself may be illuminated by confirming its location within the lifetime of the composer and a growing understanding of the various circumstances surrounding the years in which it was written. When this is allied with a knowledge of the dissemination of his compositions, one is led toward a contemporary estimation of the composer and a measure of the sphere of his influence. One further element of this research is a thematic catalogue of Zani's works. As a comprehensive description of his output, it provides a stand-alone reference volume for future studies of the man and/or his compositions. More widely, it will assist with the solution of problems of misattributions of compositions among Zani's contemporaries.
Keywords
Andrea Zani; late Baroque; concertos; sonatas; sinfonias; Casalmaggiore; thematic catalogue; biography
Rights
Copyright Jillian Ruth Ward