New Zealand-China Relations: Common Points and Differences
(2008)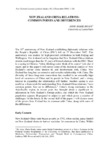 View/Open
Type of Content
Journal Article
Publisher
University of Canterbury. School of Social and Political Sciences
University of Canterbury. Political Science
Abstract
The 35th anniversary of New Zealand establishing diplomatic relations with the People's Republic of China (PRC) fell on 22 December 2007. This anniversary was marked by high-powered celebrations in both Beijing and Wellington. Yet, it should not be forgotten that New Zealand-China relations stretch much longer than the 35 years of formal relations with the PRC. There is a saying in Chinese, "when drinking water, think of its source" (yin shui si yuan), and in this paper I will survey some of the historical sources of New Zealand's current close interest in, and involvement with, China. New Zealand has long had an extensive and complex relationship with China. The diversity of these long-term connections has resulted in an unusually high level of awareness of China and its people in New Zealand, and a strong interest in expanding the relationship still further. Another saying is also useful as a framework for understanding New Zealand-China relations: "seek common points; face up to differences." China's rising dominance in the Asia-Pacific region in recent years has brought about a significant readjustment in New Zealand's foreign policy, one which the New Zealand population appears ill-prepared to adjust to and which poses a number of challenges for the future. In the second half of the paper, I will discuss some of the points New Zealand has in common with China, along with some of the differences.
Citation
Brady, A-M. (2008) New Zealand-China Relations: Common Points and Differences. New Zealand Journal of Asian Studies, 10(2), pp. 1-20.
This citation is automatically generated and may be unreliable. Use as a guide only.
Keywords
Political science; China; New Zealand; foreign policy
ANZSRC Fields of Research
44 - Human society::4408 - Political science::440808 - International relations