An investigation into the effect of providing employees with a pedometer on overall exercise levels, barriers to physical activity, stress, and satisfaction with work and life.
(2011)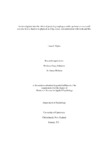 View/Open
Type of Content
Theses / Dissertations
Thesis Discipline
Psychology
Degree Name
Master of Science
Publisher
University of Canterbury. Psychology
Collections
Abstract
Given the positive benefits of physical activity, workplaces have made many attempts to increase physical activity levels of sedentary employees, typically through the use of an exercise intervention. The main purpose of the present research was to investigate whether the simple act of supplying employees engaged primarily in sedentary office-type work, who were intent on becoming physically active, with a tool capable of measuring walking activity (a pedometer) would enhance their physical activity levels over an eight-week period. As predicted, those who received a pedometer reported a significant increase in physical activity from Time 1 to Time 2, while those who did not reported no change. Furthermore, changes in physical activity levels were found to be negatively correlated with perceived barriers to physical activity at Time 1 and also with changes in perceived barriers over the eight-week period. These findings offer a simple and cost-effective alternative to traditional exercise interventions and highlight the importance of reducing barriers to physical activity to increase success when implementing future physical activity initiatives. No relationships between changes to physical activity and life satisfaction, job satisfaction or work-related stress were found. Implications of these results and suggestions for future research are discussed.
Keywords
Physical activity; exercise; pedometer; stress; work satisfaction; life satisfaction
Rights
Copyright Liana Jessica Styles