Promoting access and advocacy through the Participatory Action Research process
(2011)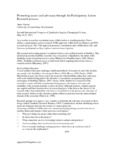 Publisher
University of Canterbury. School of Educational Studies and Human Development
Collections
Abstract
As a teacher researcher examining issues within inclusive teaching practice I have utilized a participatory action research (PAR) approach within both my Masters and PhD research projects. The PAR approach promotes consultation and collaboration with, and between, participants as they explore common issues together. My research and teaching practice is situated within a socio-political model of disability. This model proposes that disability is not the result of a person's impairment, but rather of the disabling social-cultural barriers in society (Minister for Disability Issues, 2001; Purdue, 2004). Disability is defined, not as an individual deficit requiring intervention, but as a societal creation (Macartney, 2007).
Citation
Guerin, A.P. (2011) Promoting access and advocacy through the Participatory Action Research process. Champaign-Urbana, IL, USA: 7th International Congress of Qualitative Inquiry, 18-21 May 2011.
This citation is automatically generated and may be unreliable. Use as a guide only.
ANZSRC Fields of Research
13 - Education::1303 - Specialist Studies in Education::130312 - Special Education and Disability
13 - Education::1303 - Specialist Studies in Education::130313 - Teacher Education and Professional Development of Educators