Around the world in seconds with speed-dependent automatic zooming
(2003)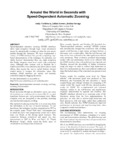 View/Open
Type of Content
Conference Contributions - Published
Publisher
University of Canterbury. Computer Science and Software Engineering.
Collections
Authors
Cockburn, A.,
Looser, J.,
Savage, J.
show all
Abstract
Speed-dependent automatic zooming (SDAZ) interfaces allow rapid navigation through large visual information spaces by automatically zooming out when the user moves quickly through the dataspace. We have implemented a variety of SDAZ interfaces that provide compelling mapbased demonstrations of the technique. In particular, our 'globe browser' demonstrates fluid and rapid navigation that fluidly integrates street-level details with continental views. Although other systems such as Keyhole Inc.'s EarthViewer3DPro (www.earthviewer.com) allow similar visual effects, they require the user to switch between distinct control modes to navigate the information space. Our modeless SDAZ interfaces are rapidly and naturally controlled simply by dragging the mouse.
Citation
Cockburn, A., Looser, J. and Savage, J. (2003) Around the world in seconds with speed-dependent automatic zooming. Vancouver, Canada: Proceedings of the ACM User Interface Software and Technology, Nov. 35-36.
This citation is automatically generated and may be unreliable. Use as a guide only.
Keywords
speed-dependent automatic zooming; scrolling; zooming; focus+context