Development of a CT scanner based on the Medipix family of detectors
(2010)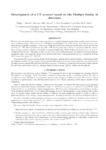 View/Open
Type of Content
Conference Contributions - Published
Publisher
University of Canterbury. Civil and Natural Resources Engineering
University of Canterbury. Electrical and Computer Engineering
Collections
Authors
Bones, P.J.,
Butler, A.P.H.,
Ronaldson, J.P.,
Opie, A.M.T.,
MARS-CT Team
show all
Abstract
Photon counting detectors are of growing importance in medical imaging because they enable routine measurement of photon energy. Detectors such as Medipix2 and Medipix3 record the energy of incident photons with minimal loss of spatial resolution. Their use is being investigated for both pre-clinical and clinical applications of X-ray CT. The Medipix3 detector has 256 x 256 55 µm pixels and a silicon or cadmium telluride detector layer, giving a spatial resolution comparable to mammographic film. Each Medipix pixel can be seen as an individual spectral detector. The logic circuits for each pixel (some 1300 transistors) can analyze incoming events at megahertz rates, comparing the charge of the electron-hole cloud with preset levels, giving a resolution of about 2 keV across the range of 8 - 140 keV. A prototype CT scanner has been developed for laboratory animals and excised specimens. Applications under investigation include: K-edge imaging: Using spectral information to measure heavy elements (e.g., preparations of iodine, barium, and gadolinium) and Soft tissue contrast: Dual energy systems have shown that image contrast for soft tissue can be improved, e.g., distinguishing between iron and calcium within vascular plaques.
Citation
Bones, P.J., Butler, A.P.H., Ronaldson, J.P., Opie, A.M.T. (2010) Development of a CT scanner based on the Medipix family of detectors. San Diego: Developments in X-Ray Tomography VII, 2-4 Aug 2010. Proceedings of SPIE, 7804, 780410(1-10).
This citation is automatically generated and may be unreliable. Use as a guide only.
ANZSRC Fields of Research
11 - Medical and Health Sciences::1103 - Clinical Sciences::110320 - Radiology and Organ Imaging
02 - Physical Sciences::0299 - Other Physical Sciences::029903 - Medical Physics