Tiki to Mickey: The Anglo - American Influence On New Zealand Commercial Music Radio 1931-2008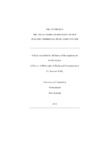 Author
Reilly, Brendan Michael Declan
Date
2011
Thesis Discipline
Media and Communication
Degree Grantor
University of Canterbury
Degree Name
Doctor of Philosophy
Emerging consensus tends to suggest there is overwhelming American dominance of New Zealand radio in music. This study sets out to investigate such claims by looking at music, and incorporating a study of technology, announcing and programming as well. There is evidence emerging that instead of overwhelming dominance, there is a mixture of American as well as British influence.
Foreign influence in the radio scene has been apparent since the time it became a popular addition to the New Zealand household in the 1920's. Over the following decades, the radio industry has turned to the dominant Anglo-American players for guidance and inspiration. Now with a maturing local industry that is becoming more confident in its own skin, this reliance on foreign industry is coming under question regarding its effect on indigenous culture. The cultural cringe is slowly disappearing, but what is replacing it has been the centre of cultural debate.
Utilising methods of content analysis and interviews, we set out to question which theory best describes the new landscape that the radio industry finds itself in, and how this is affecting the production of content received by the listening public. Working within a framework of cultural imperialism and hybridity, the findings indicate a complex mixture of the local and the global that could not be explained by simplistic notions of hybridity.
Subjects
globalisation

cultural imperialism

hybridity

culture

media dependency

radio industry
Collections