Evaluating a Temporal Behaviour for Web Browsers' Back and Forward Buttons
(2002)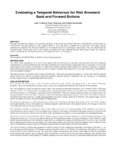 View/Open
Type of Content
Conference Contributions - Other
Publisher
University of Canterbury. Computer Science and Software Engineering.
Collections
Authors
Cockburn, A.,
McKenzie, B.,
JasonSmith, M.
show all
Abstract
This paper describes the evaluation of a 'temporal' alternative to the normal 'stack-based' behaviour of the Back and Forward buttons on web browsers. The main difference of the temporal scheme is that it maintains a complete list of previously visited pages. Results confirmed our prediction that the major limitation of the temporal system is in returning to parent pages. They also showed that the temporal scheme allowed many users to solve complex navigation tasks more efficiently than the stack system. Overall, the results are positive and indicate that the temporal scheme can be adapted to improve web navigation.
Citation
Cockburn, A., McKenzie, B., JasonSmith, M. (2002) Evaluating a Temporal Behaviour for Web Browsers' Back and Forward Buttons. Honolulu, Hawaii: Proceedings of the 11th International WWW Conference, 7-11 May 2002.
This citation is automatically generated and may be unreliable. Use as a guide only.
Keywords
web navigation; world wide web; revisitation; browser design; hypertext