Soil-Foundation-Structure Interaction Effects on Nonlinear Seismic Demand of Structures
(2010)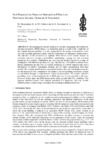 Type of Content
Conference Contributions - Published
Publisher
University of Canterbury. Civil and Natural Resources Engineering
University of Canterbury. Mechanical Engineering
Collections
Authors
Moghaddasi, M.,
Cubrinovski, M.,
Pampanin, S.,
Carr, A.J.,
Chase, J.G.
show all
Abstract
Investigating the seismic demand of structures integrating soil-foundation-structure interaction (SFSI) effects is a demanding task as a result of the complexity of the coupled dynamic problem. It is also augmented by the impact of uncertainty in the soil and structural parameters along with the randomness in earthquake characteristics. The objective of this research is to highlight SFSI effects on the seismic demand of nonlinear structures through a probabilistic methodology varying soil and structural parameters in a realistic combination and enforcing the adopted models to a range of earthquakes with different spectrum and type. Specifically, 1.36 million nonlinear time-history simulations are run over: (i) models consisting of a SDOF superstructure and a rheological soil-shallow foundation element; and (ii) their corresponding fixed-base models. The demand modification in structural distortion, drift and total displacement due to consideration of SFSI compared to the results of the corresponding fixed-base systems are quantified through a comprehensive statistical presentation. The results contradict prevailing views of the beneficial role of SFSI and show it does not hold in all cases. However, it does show that SFSI effects can be safely ignored with 50% confidence. The rigorous statistical Monte Carlo analysis presented is a significant first step towards reliability-based seismic design procedures incorporating foundation flexibility.
Citation
Moghaddasi, M., Cubrinovski, M., Pampanin, S., Carr, A.J., Chase, J.G. (2010) Soil-Foundation-Structure Interaction Effects on Nonlinear Seismic Demand of Structures. Wellington, New Zealand: 2010 New Zealand Society of Earthquake Engineering (NZSEE) Conference, 26-28 Mar 2010. NZSEE Conference Proceedings 2010, Paper 17, 9pp.
This citation is automatically generated and may be unreliable. Use as a guide only.
ANZSRC Fields of Research
09 - Engineering::0905 - Civil Engineering::090504 - Earthquake Engineering
09 - Engineering::0905 - Civil Engineering::090506 - Structural Engineering