Service in practice, practice in service, negotiating a path to the future
(2008)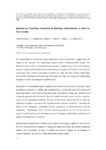 Type of Content
Conference Contributions - Published
Publisher
University of Canterbury. Health Sciences Centre
Collections
Authors
Ahuriri-Driscoll, A.
Hudson, M.
Baker, V.
Hepi, M.
Mika, C.
Tiakiwai, S.J.
show all
Abstract
The sustainability of cultural knowledge and practices, and environments to support these are subject to the pressures of a globalising western society. Traditional Maori healers find themselves at the centre of such impacts and experience a unique set of tensions in working to sustain a healing tradition dependent on maintaining the integrity of both the environment and matauranga Maori (Maori knowledge). In addition to balancing their existing relationships between the environment and traditional knowledge, they must also forge new relationships and practices in the development of health services.
The practice of traditional healing is founded on the notion of service to the community where practitioners respond to a 'calling' and commonly have a gift for the work. The practices of traditional healers evolve from serving the people and notions of koha (gift, donation) and reciprocity permeate this relationship. However within the health system concepts of practice and service are substantially different. Services are delivered to clients and rely on consistent application of skills by professionals organized around particular specialties. This alters the nature of the therapeutic relationship and the expectations of both the healer and the community. Transitioning from a 'practice' based approach to one of 'service' delivery requires careful negotiation of challenges in terms of changing relationships, expectations of quality, and maintenance of capacity.
Research and evaluation have a distinct role to play in developing a pathway to the future in both the retention and development of indigenous health knowledge that informs traditional healing, and in producing the type of evidence necessary to support the development of rongoa (medicine, cure) services within mainstream health systems.
Citation
Ahuriri-Driscoll, A., Hudson, M., Baker, V., Hepi, M., Mika, C., Tiakiwai, S.J. (2008) Service in practice, practice in service, negotiating a path to the future. Auckland, New Zealand: Te Tatau Pounamu conference 2008. Te Tatau Pounamu: The Greenstone Door: Traditional knowledge and gateways to balanced relationships, 8-11 Jun 2008. 122-130.
This citation is automatically generated and may be unreliable. Use as a guide only.
Keywords
On-site wastewater management; marae; kaupapa Maori; roadmap; hapu wastewater literacy; multi-agency working
ANZSRC Fields of Research
11 - Medical and Health Sciences::1117 - Public Health and Health Services::111713 - M?ori Health
16 - Studies in Human Society::1699 - Other Studies in Human Society::169904 - Studies of M?ori Society
Related items
Showing items related by title, author, creator and subject.
Ahuriri-Driscoll, A.

;

Baker, V.

;

Hepi, M.

;

Hudson, M.

;

Mika, C.

;

Tiakiwai, S

(

University of Canterbury. Health Sciences Centre

,

2008

)

Rongoa Maori is a holistic system of healing that has developed out of Maori cultural traditions. It has a long history of usage and credibility among Maori, and increased interest in its revival and sustainability has ...

Ahuriri-Driscoll, A.

;

Baker, V.

;

Hepi, M.

;

Hudson, M.

;

Mika, C.

;

Tiakiwai, S

(

University of Canterbury. Health Sciences Centre

,

2008

)

Aound 80% of the developing world's rural population depends on traditional medicines for its primary healthcare needs (World Health Organization (WHO) 2003). Since the late 1970s, the WHO has promoted traditional medicines ...

Pitama, S.

;

Ahuriri-Driscoll, A.L.M.

;

Jellie, M

(

University of Canterbury. Health Sciences Centre

,

2001

)