Knowledge for teaching mathematics in a primary school: Perspectives of pre-service teachers.
(2010)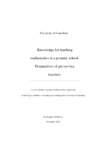 View/Open
Type of Content
Theses / Dissertations
Thesis Discipline
Education
Degree Name
Master of Teaching and Learning
Publisher
University of Canterbury. Educational Studies and Human Development
Collections
Abstract
Knowledge about how to teach remains a contentious issue in the preparation of final year pre-service teachers. This study, informed by the work of Shulman (1986) and Grossman (1990), examines knowledge for mathematics teaching by pre-service teachers. The context for this study was a mathematics education course, part of an Initial Teacher Education programme for primary teaching. Different categories of teacher knowledge distinguish between content knowledge and pedagogical content knowledge. There is considerable research about the knowledge needed for teaching mathematics from a teacher perspective, but limited research from a pre-service teacher perspective. This study focussed on knowledge that pre-service teachers develop and the processes they engaged in to construct knowledge for mathematics teaching. This is a qualitative and interpretive study, where participants were third year pre-service teachers. Data collection tools were questionnaires and focus group interviews. One interview made use of an artefact, a curriculum plan for mathematics, generated by the pre-service teachers as they participated in the mathematics education course. A thematic analysis approach was used to analyse the data and to inform an emerging theoretical framework. During this study, I developed a model that illustrates some important processes for pre-service teachers in a curriculum context. The Pre-service Teacher Development Model consists of three processes; recognising, reconceptualising and realising. These three processes illustrate how pre-service teachers develop knowledge about teaching mathematics in a primary school. The pre-service teachers identified the importance of mathematical curriculum and content knowledge in their preparation for teaching. This study also identified that the needs of pre-service teachers are unique. Whereas teachers with experience have a "privileged repertoire" of practices to draw on when teaching, pre-service teachers are beginning to develop this repertoire. This study serves to highlight the challenges for pre-service teachers as they prepare to transition to their first year of teaching.
Rights
Copyright Susanna Mary Wilson
Related items
Showing items related by title, author, creator and subject.
Fickel LH

;

Abbiss J

;

Brown E

;

Astall C

(

Informa UK Limited

,

2018

)

© 2018 Taylor & Francis Group, LLC. Culturally responsive teaching is an essential component of reframing educator preparation for equity and has particular resonance when working in partnership with indigenous communities. ...

Coombe, Suzanne

(

University of Canterbury

,

2018

)

Aims: This study investigated New Zealand mainstream primary school teachers' knowledge of hearing impairment and deafness and its influence on children's learning in the classroom. In addition, the study aimed to identify ...

Mohamed, Niuma

(

University of Canterbury. School of Educational Studies and Leadership

,

2013

)

Assessment practice in Maldivian schools is undergoing change. The newly developed draft of Maldivian National Curriculum with associated documents aligns assessment, instruction, and curriculum to provide optimum learning ...