A simulation model of insulin saturation and glucose balance for glycaemic control in ICU patients
(2010)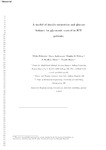 View/Open
Type of Content
Journal Articles
Publisher
University of Canterbury. Mechanical Engineering
Collections
Authors
Pielmeier, U.,
Andreassen, S.,
Nielsen, B.S.,
Chase, J.G.,
Haure, P.
show all
Abstract
Hyperglycaemia due to reduced insulin sensitivity is prevalent in critically ill patients and increases mortality and complications. However, consistent tight control has proven elusive. In particular, properly accounting for the saturation of insulin action is important in intensive insulin therapy. This paper introduces a composite metabolic model of insulin kinetics and blood glucose balance. Saturation of insulin action at high insulin concentrations is modelled as a non-linearity and reduced insulin sensitivity is modelled as either a scaling of peripheral insulin (before the non-linearity) or as a scaling of insulin effect (after the non-linearity). Retrospective clinical data from 10 intensive care patients are used to evaluate these approaches based on the resulting accuracy in predicting glycaemic response to intervention. For predictions of blood glucose longer than 1/2 hour ahead scaling of insulin effect gave a 1.6 fold smaller RMS error. Results for short-term (1-hour) and long-term (8-hour) predictions were 16% and 34% RMS error for scaling of insulin effect compared to 22% and 59% for scaling of peripheral insulin, respectively (P< 0.01). It can be concluded that scaling the insulin effect is a more suitable approach in this model structure.
Citation
Pielmeier, U., Andreassen S., Nielsen B.S., Chase J.G., Haure, P. (2010) A simulation model of insulin saturation and glucose balance for glycaemic control in ICU patients. Computer Methods and Programs in Biomedicine, 97(3), pp. 211-222.
This citation is automatically generated and may be unreliable. Use as a guide only.
Keywords
hyperglycaemia; critical care; metabolic modelling; glucose control
ANZSRC Fields of Research
11 - Medical and Health Sciences::1102 - Cardiovascular Medicine and Haematology::110202 - Haematology
11 - Medical and Health Sciences::1103 - Clinical Sciences::110310 - Intensive Care
09 - Engineering::0903 - Biomedical Engineering::090302 - Biomechanical Engineering