Cardiac output estimation using pulmonary mechanics in mechanically ventilated patients
(2010)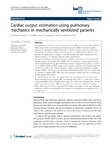 View/Open
Type of Content
Journal Article
Publisher
University of Canterbury. Electrical and Computer Engineering
University of Canterbury. Mechanical Engineering
Collections
Authors
Sundaresan, A.
Chase, Geoff
Hann, C.E.
Shaw, Geoff
show all
Abstract
The application of positive end expiratory pressure (PEEP) in mechanically ventilated (MV) patients with acute respiratory distress syndrome (ARDS) decreases cardiac output (CO). Accurate measurement of CO is highly invasive and is not ideal for all MV critically ill patients. However, the link between the PEEP used in MV, and CO provides an opportunity to assess CO via MV therapy and other existing measurements, creating a CO measure without further invasiveness. This paper examines combining models of diffusion resistance and lung mechanics, to help predict CO changes due to PEEP. The CO estimator uses an initial measurement of pulmonary shunt, and estimations of shunt changes due to PEEP to predict CO at different levels of PEEP. Inputs to the cardiac model are the PV loops from the ventilator, as well as the oxygen saturation values using known respiratory inspired oxygen content. The outputs are estimates of pulmonary shunt and CO changes due to changes in applied PEEP. Data from two published studies are used to assess and initially validate this model. The model shows the effect on oxygenation due to decreased CO and decreased shunt, resulting from increased PEEP. It concludes that there is a trade off on oxygenation parameters. More clinically importantly, the model also examines how the rate of CO drop with increased PEEP can be used as a method to determine optimal PEEP, which may be used to optimise MV therapy with respect to the gas exchange achieved, as well as accounting for the impact on the cardiovascular system and its management.
Citation
Sundaresan, A., Chase, J.G., Hann, C.E., Shaw, G.M. (2010) Cardiac output estimation using pulmonary mechanics in mechanically ventilated patients. BioMedical Engineering OnLine, 9:80.
This citation is automatically generated and may be unreliable. Use as a guide only.
ANZSRC Fields of Research
40 - Engineering::4003 - Biomedical engineering::400303 - Biomechanical engineering
32 - Biomedical and clinical sciences::3201 - Cardiovascular medicine and haematology::320103 - Respiratory diseases
Related items
Showing items related by title, author, creator and subject.
Chiew YS

;

Lambermont B

;

Morimont P

;

Shaw, Geoff

;

Desaive T

;

Chase, Geoff

(

Springer Science and Business Media LLC

,

2020

)

Morton SE

;

Knopp JL

;

Tawhai MH

;

Docherty P

;

Moeller K

;

Heines SJ

;

Bergmans DC

;

Chase, Geoff

(

Elsevier BV

,

2020

)

Abstract: Respiratory failure patients in the intensive care unit (ICU) require mechanical ventilation (MV) to support breathing and tissue oxygenation. Optimizing MV care is problematic. Significant patient variability ...

Redmond, D.P.

;

Docherty, P.D.

;

Chiew, Y.S.

;

Chase, Geoff

(

University of Canterbury. Mechanical Engineering

,

2015

)

Patient breathing efforts occurring during controlled ventilation causes perturbations in pressure data, which cause erroneous parameter estimation in conventional models of respiratory mechanics. A polynomial model of ...