Quantifying the Vulnerability of High Voltage Power Transmission Systems to Volcanic Ashfall Hazards
(2010)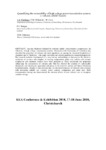 View/Open
Publisher
University of Canterbury. Electrical and Computer Engineering
University of Canterbury. Geological Sciences
Collections
Authors
Wardman, J.B.
Wilson, T.M.
Cole, J.W.
Bodger, P.S.
Johnston, D.M.
show all
Abstract
Insulator flashover initiated by volcanic ashfall contamination compromises the reliability of high voltage transmission systems. Research at the University of Canterbury has identified the properties of volcanic ash most significant in causing the electrical breakdown of insulators due to 'flashover'. This paper describes our current quantitative research programme. The research includes development of a new testing methodology to characterise the electrical resistance of volcanic ash samples of varying composition, grain size, soluble salt content, compaction and moisture content have been analysed to better understand the properties influencing the conductivity of volcanic ash. This has allowed the creation of a physically, chemically and electrically equivalent ash proxy to be used for current and future laboratory experimentation. Results to date indicate that the electrical reistance of volcanic ash decreases with increasing soluble salt content, water content, compaction and grain size. Early contamination testing has demonstrated the adverse affects of wet volcanic ash on energised insulator strings.
Citation
Wardman, J.B., Wilson, T.M, Cole, J.W., Bodger, P.S., Johnston, D.M. (2010) Quantifying the Vulnerability of High Voltage Power Transmission Systems to Volcanic Ashfall Hazards. Christchurch, New Zealand: 2010 Electricity Engineers' Association (EEA) Conference, 17-18 Jun 2010.
This citation is automatically generated and may be unreliable. Use as a guide only.
ANZSRC Fields of Research
09 - Engineering::0906 - Electrical and Electronic Engineering::090601 - Circuits and Systems
37 - Earth sciences::3705 - Geology::370512 - Volcanology
37 - Earth sciences::3709 - Physical geography and environmental geoscience::370903 - Natural hazards
Related items
Showing items related by title, author, creator and subject.
Wardman, J.B.

;

Wilson, T.M.

;

Bodger, P.S.

;

Cole, J.W.

;

Stewart, C.

(

University of Canterbury. Electrical and Computer EngineeringUniversity of Canterbury. Geological Sciences

,

2012

)

Modern society is highly dependent on a reliable electricity supply. During explosive volcanic eruptions, tephra contamination of power networks (systems) can compromise the reliability of supply. Outages can have ...

Wilson G

;

Wilson TM

;

Deligne NI

;

Blake DM

;

Cole JW

(

2017

)

Volcanic risk assessment using probabilistic models is increasingly desired for risk management, particularly for loss forecasting, critical infrastructure management, land-use planning and evacuation planning. Over the ...

Stewart, C.

;

Wilson, T.M.

(

University of Canterbury. Geological Sciences

,

2012

)

Volcanic ash may not be the most spectacular or lethal product of an explosive volcanic eruption, but it is the most widespread, and the most likely to affect towns, cities and farmland in the North Island. Freshlyerupted ash ...