Reducing Interference with Cognitive Relays
(2010)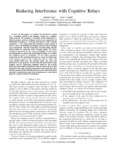 View/Open
Type of Content
Conference Contributions - Published
Publisher
University of Canterbury. Electrical and Computer Engineering
University of Canterbury. Mathematics and Statistics
ISBN
978-1-4244-7071-6
Collections
Abstract
In this paper, we consider the interference caused by a secondary system to the primary system in a cognitive radio network. We consider a secondary system deployed in a field of primary receivers. Primary receivers are assumed to be distributed according to a Poisson point process with a density parameter p. We assume that the secondary system consists of source, relay, and destination terminals, and the source terminal can communicate with the destination terminal either directly (direct mode) or using the relay (relaying mode). We derive analytical expressions for the outage probability of both modes including pathloss, shadowing and multipath fading, and validate the analytical results by simulation. We also derive analytical expressions for the maximum interference caused by both modes to the primary receivers. The results show that to achieve the same median SNR level, the relaying mode may cause less interference to the primary receivers than the direct mode in high pathloss and low shadowing conditions. However, the relaying mode has much higher interference than the direct mode if both modes have the same capacity performance. The results also show that the capacity of the relaying mode has to be reduced by about one half to provide the same level of interference as the direct mode in a typical channel environment.
Citation
Firag, A., Smith, P.J. (2010) Reducing Interference with Cognitive Relays. King's College, London, UK: 6th IEEE Wireless Advanced (WiAD), 27-29 Jun 2010. 2010 Wireless Advanced Conference Proceedings, Online, 6pp.
This citation is automatically generated and may be unreliable. Use as a guide only.
ANZSRC Fields of Research
10 - Technology::1005 - Communications Technologies::100510 - Wireless Communications