Airport Service Vehicle Scheduling
(2009)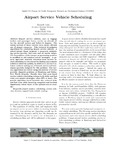 View/Open
Type of Content
Conference Contributions - Published
Publisher
University of Canterbury. Civil and Natural Resources Engineering
Collections
Abstract
Airport service vehicles, such as luggage trailers and passenger buses, service an aircraft af- ter the aircraft arrives and before it departs. The timely arrivals of these vehicles help ensure e cient use of airport resources. This research investigates algorithms for scheduling airport service vehicles. A mixed integer linear program is proposed, minimiz- ing service provider fuel costs and air carrier delays. The formulation of the integer programming problem is modi ed to aid solution search strategies. A ge- netic algorithm heuristic borrowed from aircraft ar- rival scheduling is introduced for nding approximate solutions relatively quickly, in addition to an exact so- lution method making use of branch and bound tech- niques specially designed for this problem. The vari- ous algorithms are tested using simulations of service provider dispatch problems at Hamburg and Dallas- Fort Worth Airports. Results show that plan based service vehicle scheduling reduces both delay and fuel costs over passive strategies, often 20% or more. The genetic algorithm based heuristic also reduced delay and fuel costs while incurring computational burdens signi cantly below those of the optimal search strat- egy.
Citation
Kuhn, K., Loth, S. (2009) Airport Service Vehicle Scheduling. Napa, CA, USA: 8th USA/Europe Air Traffic Management Research and Development Seminar (ATM Seminar), 29 Jun-2 Jul 2009.
This citation is automatically generated and may be unreliable. Use as a guide only.
Keywords
airport surface; scheduling; service vehicles; decision support tools; vehicle routing
ANZSRC Fields of Research
09 - Engineering::0905 - Civil Engineering::090507 - Transport Engineering
09 - Engineering::0901 - Aerospace Engineering::090199 - Aerospace Engineering not elsewhere classified