Using methanol and ethanol vapours as drying media for producing bright colour wood in drying of radiata pine
(2006)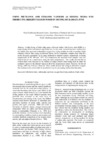 View/Open
Type of Content
Conference Contributions - Published
Publisher
University of Canterbury. Chemical and Process Engineering.
ISBN
978-963-9483-58-3
Collections
Abstract
In kiln drying of high value grade softwood timber, kiln brown stain (KBS) is a major drying defect and induces significant loss. In this work, research has been conducted to dry radiata pine sapwood in alternative oxygen-free drying medium in order to produce bright coloured wood in kiln drying of softwood timber. In the experiment, samples were dried in a newly designed experiment rig by using methanol or ethanol vapours, respectively, at drying temperatures of 90, 100 and 110°C. For comparison, the matched wood samples were also dried in hot air in a tunnel dryer using the same temperatures. The results showed that no obvious KBS were detected on the surface of sample boards when being dried in either the methanol vapour or the ethanol vapour at all of the temperatures tested. However, for hot air drying, KBS was obviously observed. These results indicate that using an alternative oxygen-free medium to dry wood could be an effective way for preventing surface discolouration.
Citation
Pang, S. (2006) Using methanol and ethanol vapours as drying media for producing bright colour wood in drying of radiata pine. Budapest, Hungary: 15th International Drying Symposium (IDS 2006), 20-23 Aug 2006. Drying 2006 - Proceedings of the 15th International Drying Symposium (IDS 2006), v. C, p. 1745-1749.
This citation is automatically generated and may be unreliable. Use as a guide only.
Keywords
kiln brown stain; radiata pine sapwood; oxygen-free drying medium; bright colour