"Saptapadi" -- the seven steps : a study of the urban Hindu arranged marriage in selected Indian-English fiction by women authors
(2004)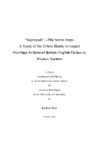 View/Open
Type of Content
Theses / Dissertations
Degree Name
Doctor of Philosophy (PhD)
Publisher
University of Canterbury. English
Collections
Abstract
This study explores the influence of the Indian socio-cultural hegemonic discourse on the urban Hindu arranged marriage. For this purpose, four novels in English by Indian women writers have been selected for their location within the specific urban Indian socio-cultural tradition. These novels are the avenues through which the Gramscian theories of hegemony and consensual control are observed. The study focuses on unravelling the damage caused by the hegemonic socio-cultural traditions within the marriages portrayed in the fiction. The interplay between the reader and the texts is vital in further exploring the reach of hegemony into the reading codes of the audience. The need for a model reader is discussed within the study which also addresses the roles of both protagonists and readers as 'cultural insiders/outsiders.' The study focuses on the emotional and socio-cultural dilemmas faced by the protagonists and the audience who occupy the 'in-between-zones' of those who fall into neither category of absolute insiders or outsiders in cultural terms. This thesis is not an attempt aggressively to deconstruct the Indian traditional social structure. The main aim of this thesis is to use the literary discourse as an instrument to explore the subversion of the ancient Hindu discourses whenever it has suited the vested interests shaping the hegemonic socio-cultural discourses. This study also attempts to further an understanding of the exploitative manipulation of married couples by various interest groups. In the process, using fiction as an instrument, there might be a chance to create stronger marriages and more harmonious marital interactions within urban Indian society.
Rights
Copyright Reshmi Roy
Related items
Showing items related by title, author, creator and subject.
Nissen S

;

Prendergast K

;

Aoyagi M

;

Burningham K

;

Hasan MM

;

Hayward B

;

Jackson T

;

Jha V

;

Mattar H

;

Schudel I

;

Venn S

;

Yoshida A

(

Springer Science and Business Media LLC

,

2020

)

Background Cities are at the fore of sustainability challenges of the twenty-first century, and many, particularly in Asia and Africa, are predominantly youthful spaces. Understanding young people's experiences in urban ...

Cheer U

;

Taylor L

;

Masselot A

;

Baird N

;

Powell RL

(

University of Canterbury

,

2017

)

In 2015 a research team in the School of Law at the University of Canterbury developed a project with the Canterbury Women's Legal Association to gather information about flexible and part-time work practices in the ...

Maidment, J.

;

Macfarlane, S.

(

University of Canterbury. School of Language, Social and Political Sciences

,

2011

)

While social policy and planning documents are replete with ominous warnings about the cost of an ageing population, this article tells a different story about the productive and self sustaining networks that exist amongst ...