A Contour Integration Method for the Computation of Zernike Moments of a Binary Image
(1997)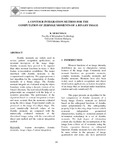 View/Open
Type of Content
Conference Contributions - Other
Publisher
University of Canterbury. Computer Science and Software Engineering.
Collections
Abstract
Zernike moments are widely used in several pattern recognition applications, as invariant descriptors of the image shape. Zernike moments have proved to be superior than other moment functions in terms of their feature representation capabilities. The major drawback with Zernike moments is the computational complexity. This paper presents a fast algorithm for the computation of Zernike moments of a binary image. The Zernike moment integrals are evaluated along the object boundary points using a discrete version of the Green's theorem. The real-valued Zernike radial polynomials are computed with the help of a recursive procedure. The performance of the algorithm based on contour integration is faster and more accurate than the moments evaluated using the whole image. Experimental results are presented for the image of a ellipse shape. The exact (analytically derived) values of the Zernike moments are compared with the numerically evaluated moments of the discretized image, using both the conventional direct sum method and the contour integration method.
Citation
Mukundan, R. (1997) A Contour Integration Method for the Computation of Zernike Moments of a Binary Image. USM-Penang: National Conference on Research and Development in Computer Science and Applications - REDECS'97, November, 1997. 188--192.
This citation is automatically generated and may be unreliable. Use as a guide only.
Keywords
feature descriptors; Zernike moments; image ellipse; contour integration