Science Fiction and the Contest of Ideology
(2010)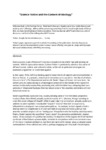 View/Open
Type of Content
Oral Presentation
Publisher
University of Canterbury. School of Humanities
University of Canterbury. Bridging Programmes
Collections
Abstract
Even a cursory study of Science Fiction texts reveals it to be a field ripe with ideological contest. With its speculative nature, Science Fiction is particularly suited to discussion of different social, political and cultural models, within which particular ideologies are examined, argued for, or contended against. In this paper, I'll be defining ideology against some trends of subjects and representation in Science Fiction. In particular, texts from three writers are considered: Ayn Rand's Anthem, Ursula Le Guin's The Dispossessed and Iain M. Banks' Player of Games. In these texts, the writers provide useful examples of ideological contest from the middle of the twentieth century to the early twenty-first, producing and, with the latter two, critiquing their own versions of Utopia and Dystopia that reproduce some of the anxieties and desires of their historical moments. Rand's superficially dystopian text, crudely echoing some of the formalistic properties Huxley's Brave New World, actually works in reverse of it. Likewise, though seeming to share the social critique of Orwell's 1984, it again slips the comparison, actually working to validate an uber-capitalist individualist "utopian" vision (if that isnt' an oxymoron), influential in subsequent neo-conservative policies. In contrast, Le Guin signals a both a distrust with the simplifications of Cold War faith in capitalist democracy and yet her anarchic-socialist utopia is still an "ambiguous" if hopeful model for healthy social dynamics. Finally, Banks' apparently superficial "space opera" also presents a problematic utopian vision. As an example of a posthuman society, his depiction of the organic-artificial machine symbiosis of the Culture appears idyllic, certainly in comparison with more common views of the rise of machine intelligence, but there are signs of this being, again, a utopian vision contested both from without and within, perhaps engaging with Foucault's heterotopias.
Citation
Bedggood, D. (2010) Science Fiction and the Contest of Ideology. University of Canterbury, Christchurch, New Zealand: English Seminar Series, University of Canterbury, 16 Aug 2010.
This citation is automatically generated and may be unreliable. Use as a guide only.
Keywords
English / Cultural Studies
ANZSRC Fields of Research
50 - Philosophy and religious studies::5003 - Philosophy::500305 - Epistemology
20 - Language, Communication and Culture::2005 - Literary Studies::200599 - Literary Studies not elsewhere classified