Stereo Disparity Estimation in Moment Space
(2003)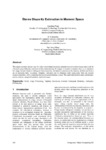 View/Open
Type of Content
Conference Contributions - Published
Publisher
University of Canterbury. Computer Science and Software Engineering.
ISBN
978-0-476-00095-7
Collections
Authors
Pang, A.,
Mukundan, R.,
Shing, N.L.
show all
Abstract
This paper explores various ways by which pixel disparities along epipolar rows of a stereo image pair could be obtained using Chebyshev moments of the corresponding 1D images. Chebyshev moments allow us to represent the image features based on orthogonal basis functions, and hence to reconstruct the intensity distribution from a set of moments fairly accurately. Disparity estimates can be obtained either analytically from the inverse moment transform, or by comparing the reconstructed intensity values. The paper also presents some preliminary results obtained using both synthetic and real images.
Citation
Pang, A., Mukundan, R., Shing, N.L. (2003) Stereo Disparity Estimation in Moment Space. Massey University, New Zealand: Image and Vision Computing New Zealand 2003, 26-28 Nov 2003. 260-264.
This citation is automatically generated and may be unreliable. Use as a guide only.
Keywords
computer vision; stereo image processing; disparity estimation; discrete orthogonal moments; Chebyshev polynomials.