Building pounding state of the art: Identifying structures vulnerable to pounding damage
(2010)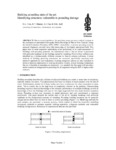 Type of Content
Conference Contributions - Published
Publisher
University of Canterbury. Civil and Natural Resources Engineering
Collections
Authors
Cole, G.,
Dhakal, R.P.,
Carr, A.J.,
Bull, D.
show all
Abstract
Due to recent legislation, the past three years has seen a radical increase in the evaluation of potentially Earthquake Prone Buildings (EPBs) in New Zealand. Using the Initial Evaluation Procedure (IEP), EPBs' vulnerability to seismic pounding must be assessed. Engineers currently have little knowledge of this highly specialised field. This paper aims to assist engineers undertaking either preliminary or in depth assessment of buildings with pounding potential. An international state of the art review is presented with particular emphasis on the loadings caused by pounding. Floor-to-floor collisions are identified as a fundamentally different process to floor-to-column collisions. Current methods of building pounding assessment are reviewed, specifically assessing each method's applicability and weaknesses. Existing mitigation options are also evaluated in terms of practical application to existing structures. Finally, critical building weaknesses that are vulnerable to pounding are presented. It is intended that this paper will provide a useful contextual background on pounding for all engineers using the IEP or higher order analyses.
Citation
Cole, G., Dhakal, R.P., Carr, A.J., Bull, D. (2010) Building pounding state of the art: Identifying structures vulnerable to pounding damage. Wellington, NZ: 2010 New Zealand Society of Earthquake Engineerings (NZSEE) Conference, 26-28 Mar 2010.
This citation is automatically generated and may be unreliable. Use as a guide only.
ANZSRC Fields of Research
09 - Engineering::0905 - Civil Engineering::090506 - Structural Engineering
09 - Engineering::0905 - Civil Engineering::090504 - Earthquake Engineering