Factors Affecting Resilient Modulus
(2006)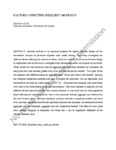 Type of Content
Conference Contributions - Published
Publisher
University of Canterbury. Civil Engineering.
Collections
Abstract
Resilient modulus is an important property for asphalt concrete design and for mechanistic analysis of pavement response under traffic loading. This study investigates the different factors affecting the resilient modulus of hot mix asphalt. A fractional factorial design of experiment was carried out to investigate seven factors each factor was studied at two levels. These factors are: the maximum nominal aggregate size, specimen diameter and thickness, the load pulse form and duration, preset strain level and the compaction method. Two types of hot mix asphalts with different maximum aggregate sizes (10mm and 14mm) were studied. Gyratory and Marshall compaction methods were used to prepare the specimens. All mix specimens were compacted to the same air voids content (5.0±0.5%). Sinusoidal and triangular load pulse forms were used in the measurement of the resilient modulus. This study attempts to examine how the different factors interrelate to affect the resilient modulus. It was found that the most significant factor affecting the resilient modulus value is the maximum nominal aggregate size followed by the load duration period, specimen thickness, specimen diameter, compaction method and strain level, and then the interaction between specimen diameter and thickness, the interaction between aggregate size and thickness, aggregate size and compaction method. The effect of wave pulse form whether triangular or sinusoidal was found that it has no significant difference of the resilient modulus value.
Citation
Saleh, M., Ji, S.J. (2006) Factors Affecting Resilient Modulus. Quebec City, Canada: 10th International Conference on Asphalt Pavements (ICAP 2006), 12-17 Aug 2006.
This citation is automatically generated and may be unreliable. Use as a guide only.
Keywords
resilient; strain; modulus; factors