Advanced Flag-Shaped Systems For High Seismic Performance
(2006)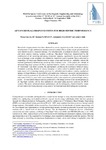 View/Open
Type of Content
Conference Contributions - Published
Publisher
University of Canterbury. Civil Engineering.
Collections
Authors
Kam, W.Y.,
Pampanin, S.,
Palermo, A.,
Carr, A.
show all
Abstract
Remarkable improvements have been observed in seismic engineering in the recent past with the development of high-performance seismic resistant systems able to sustain major ground motions with limited levels of structural damage. The developments of dissipation devices, connections and entire seismic resisting systems exhibiting "flag-shape" behaviour, characterized by the combination of self-centering and energy dissipation capacity, significantly reduce the expected level of damage, when compared with traditional monolithic ductile systems. This is achieved by controlling the maximum displacements to target values and limiting (to negligible values) the residual (permanent) deformations occurring after a seismic event. In this paper, the concept of advanced flag-shape systems (AFS) is proposed based on further refinements and improvements of "traditional" flag-shape systems. By appropriately combining the alternative forms of energy dissipation (yielding, friction or viscous damping) in series and/or in parallel together with the main source of re-centering capacity provided by unbonded post-tensioned tendons, mechanical springs or Shape Memory Alloys (SMA) with superelastic behaviour, advanced high-performance seismic resisting systems can be achieved. These are able to counteract the effects of both far field and, more effectively, near field events characterized by a low number of cycles and high velocity pulses. The conceptual behavior and key parameters in the design process of the second generation of flag-shape systems will be first qualitatively discussed using push-pull analyses on SDOF systems. The actual enhanced seismic performance will be subsequently demonstrated by means of non-linear time-history analyses using suites of far field and near-field earthquake excitations.
Citation
Kam, W.Y., Pampanin, S., Palermo, A., Carr, A. (2006) Advanced Flag-Shaped Systems For High Seismic Performance. Geneva, Switzerland: First European Conference on Earthquake Engineering and Seismology (ECEES), 3-8 Sep 2006. Proceedings of the First European Conference on Earthquake Engineering and Seismology 2006, Paper 991, 10pp.
This citation is automatically generated and may be unreliable. Use as a guide only.