Contract labour migration between Fiji and New Zealand : a case study of a South Pacific work permit scheme.
(1988)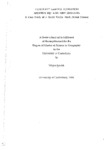 View/Open
Type of Content
Theses / Dissertations
Thesis Discipline
Geography
Degree Name
Master of Science
Publisher
University of Canterbury. Department of Geography
Collections
Abstract
This thesis addresses the phenomenon of short-term labour migration between Fiji and New Zealand that operates within the confining structures of formally instituted work permit schemes. Established since the late 1960s on the initiative of New Zealand governments, as part of attempts to regulate labour movements from Pacific Island nations to New Zealand, these schemes have had their greatest success in controlling flows from Fiji. Numerically the most significant users of the schemes, many among this flow have sought rural work in New Zealand. This in turn has led to the expression of hopes that a degree of skill and money transfer will operate through this means to assist Fiji's development. Establishing the efficacy of such mechanisms is a major aim of this thesis. The study also details the pervasive role of government policy in the fortunes of short-term South Pacific labour migration. The need for integrated and flexible approaches to this study is accepted, with the proviso that the requirement to situate this controversial migration in the context of policy is paramount. The latter is achieved here, with the result that the conclusions drawn are generally sympathetic to scheme labour migration, and are therefore somewhat at odds with observed but not openly stated New Zealand government policy.
Rights
Copyright Wayne Levick
Related items
Showing items related by title, author, creator and subject.
King J

(

SAGE Publications

,

2017

)

Review of: South Pacific Englishes: A Sociolinguistic and Morphosyntactic Profile of Fiji English, Samoan English and Cook Islands English. By Carolin Biewer. Amsterdam/Philadelphia: John Benjamins, 2015. xvi +351. ISBN: ...

Small, D.

(

University of Canterbury. School of Educational Studies and Human Development

,

2007

)

The report begins with a discussion of methods used to evaluate the project, which are consistent with those described in the initial proposal. It is followed by some preliminary remarks about the context within which WSB ...

Collins, Dominic Noel

(

University of Canterbury. Social and Political Sciences

,

2009

)

There are currently several potential threats to the long-term habitability of many atolls and islands in the Pacific Islands region, with environmental change appearing the most serious. Minimal attention has been given ...