Collapse Mechanisms of Composite Slab Panels in Fire
(2010)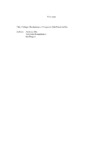 Type of Content
Conference Contributions - Published
Publisher
University of Canterbury. Civil and Natural Resources Engineering
Collections
Authors
Abu, A.K.,
Ramanitrarivo, V.,
Burgess, I.W.
show all
Abstract
The identification of tensile membrane action as a sustainable, high-capacity load-bearing mechanism of composite floors under fire conditions has led to the development of a number of simplified design solutions, because of the unsuitability of finite element analysis for routine design. Prominent amongst these is the Bailey-BRE method, which predicts composite slab capacity by calculating the enhancement of its traditional yield-line load capacity due to tensile membrane action. This method assumes that the two-way bending slab panel, composed internally of parallel unprotected composite beams, is supported on edges which resist vertical deflection. In practice, the protected composite beams which simulate this vertical edge support in fire deflect under the combination of heating and load, and this loss of vertical support induces single-curvature bending, which leads to an eventual structural failure by folding of the slab panel. A simple folding mechanism, which considers the contributions of the internal unprotected beams and the protected edge beams, has been developed for isolated slab panels. In the current study the mechanism has been extended to include the reinforcement in the slab as well as its continuity across the protected edge beams. Structural failure of the panel depends on the applied loads, the relative beam sizes, their locations within the building, their arrangement in the slab panel considered, the location of the slab panel and the severity of fire exposure. These factors are considered in developing a number of collapse mechanisms as an additional check within the Bailey-BRE design method. Comparisons are made with the finite element software Vulcan and other acceptance criteria.
Citation
Abu, A.K., Ramanitrarivo, V., Burgess, I.W. (2010) Collapse Mechanisms of Composite Slab Panels in Fire. East Lansing, MI, USA: 6th International Structures in Fire Conference (SIF'10), 2-4 Jun 2010. 382-389.
This citation is automatically generated and may be unreliable. Use as a guide only.