Hybrid ARQ for Non-Orthogonal Space-Time Block Codes
(2008)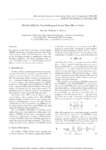 View/Open
Type of Content
Conference Contributions - Published
Publisher
University of Canterbury. Electrical and Computer Engineering
Collections
Abstract
We propose a novel hybrid automatic repeat-request (HARQ) scheme for non-orthogonal space-time block codes based on BCH and Reed Solomon codes. We use list decoding techniques to significantly reduce the decoding complexity. We obtain significant gains in terms of dropped packet rate and throughput spectral efficiency at the cost of increased complexity.
Citation
Lin, R., Martin, P.A. (2008) Hybrid ARQ for Non-Orthogonal Space-Time Block Codes. Auckland, New Zealand: 2008 International Symposium on Information Theory and its Applications (ISITA2008), 7-10 Dec 2008.
This citation is automatically generated and may be unreliable. Use as a guide only.
Rights
(c) 2008 IEEE. Personal use of this material is permitted. Permission from IEEE must be obtained for all other users, including reprinting/ republishing this material for advertising or promotional purposes, creating new collective works for resale or redistribution to servers or lists, or reuse of any copyrighted components of this work in other works.