Multi-storey semi-active tuned mass damper building system
(2006)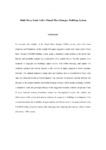 View/Open
Type of Content
Conference Contributions - Published
Publisher
University of Canterbury. Civil Engineering.
University of Canterbury. Mechanical Engineering.
Collections
Authors
Chey, M.H.,
Mander, J.B.,
Carr, A.J.,
Chase, J.G.
show all
Abstract
To overcome the inability of the Tuned Mass Damper (TMD) system, which has linear properties and limitations on the weight, this paper suggests a multi story Semi-Active Tuned Mass Damper (SATMD) building system using a structure's upper portion as the tuned mass damper and resettable actuator as a semi-active (SA) control device. For this purpose, it is proposed to segregate the building's upper story(s) with rubber bearings, and employ SA resettable actuator and viscous damper to the story(s) of upper segment to lower structural elements. The optimal frequency tuning ratio and damping ratio is considered for large mass ratio, for which previously proposed equation was used and the practical optimal stiffness was allocated to the acuator stiffness and rubber bearing stiffness. 2DOF model, including SATMD, is adopted to verify the principal efficacy of the suggested structural control concept and 6 and 12 story moment resisting benchmark frames are investigated to assess the viability and effectiveness of the system that aims at reducing the response of buildings to earthquakes. This research determines the feasibility, design methods and effectiveness of the proposed multi story SATMD building system by numerically analyzing and comparing the response with no control and passive TMD system.
Citation
Chey, M.H., Mander, J.B., Carr, A.J., Chase, J.G. (2006) Multi-storey semi-active tuned mass damper building system. Christchurch, New Zealand: 19th Australasian Conference on Mechanics of Structures and Materials (ACMSM19), 29 Nov-1 Dec 2006. Progress in Mechanics of Structures and Materials, 371-377.
This citation is automatically generated and may be unreliable. Use as a guide only.