'Not having the fear of God before her eyes': Enforcement of the Criminal Law in the Supreme Court in Canterbury 1852-1872
(2005)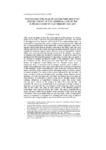 Type of Content
Journal Articles
Publisher
University of Canterbury. School of Law
ISSN
0112-0581
Collections
Abstract
This article attempts to describe some aspects of the process of criminal justice in the early Canterbury settlement through the lens of the cases heard in the Supreme Court between 1852 and 1872. It is acknowledged that it is impossible to represent fully such a complex social phenomenon. Although the criminal jurisdiction of the nineteenth century Supreme Court was in practice much wider than its modern counterpart, the High Court, the cases which came before the Court represent an unascertainable fraction of all significant criminal conduct. Some offences were not reported by victims, others were not resolved by the detection or arrest of the offender. In a number of instances the authorities declined to prosecute; in others the matter was decided in the Resident Magistrates' Court either by trying the case itself, or by refusing to commit the alleged offender to the Supreme Court. Despite the existence of this filtering process, more than 700 cases did come before the Supreme Court during the two decades under study. A significant body of archival and newspaper material gives details of a significant proportion of the cases tried, albeit with a degree of selectivity in the reporting which overemphasises some of the less common offences, such as murder, at the expense of less intriguing offences such as larceny or minor assaults. The value of the data is enhanced by the fact that for some two-thirds of the period under study one judge, Henry Barnes Gresson, presided over all criminal trials. Provided the limitations of the data are remembered, it is possible to derive some useful insights about serious criminal offending in Canterbury's formative years. The current study sets out some aspects of the manner in which the Court operated and considers the data as to criminal trials in its social and economic context. It then goes on to describe the main features of the offending which was dealt with by the Court, and looks at some aspects of the different groups of individuals who appeared before the Court. The paper complements to some extent two other recent studies of the operation of the courts in early Canterbury, but it goes further than any previous study of the criminal justice process in operation in Victorian New Zealand, both in the range of offences considered and the geographical area from which cases were drawn.
Citation
Finn, J., Wilson, C. (2005) 'Not having the fear of God before her eyes': Enforcement of the Criminal Law in the Supreme Court in Canterbury 1852-1872. Canterbury Law Review, 11 (2005), pp. 250-282.
This citation is automatically generated and may be unreliable. Use as a guide only.