MIMO Channel Estimation and Tracking Based on Polynomial Prediction with Application to Equalization
(2008)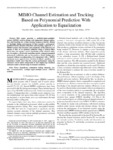 View/Open
Type of Content
Journal Articles
Publisher
University of Canterbury. Electrical and Computer Engineering
ISSN
00189545
Collections
Abstract
This paper presents a multiple-input-multiple-output (MIMO) receiver design with integrated channel estimation and tracking for a time-varying frequency-selective Rician or Rayleigh fading environment. It first extends a polynomial-predictor-based channel estimation and tracking approach to a MIMO system. The structure and complexity of the estimator are similar to that of an optimum estimator using a Kalman filter, but it does not require a priori knowledge of the channel statistics. It employs a fixed-state transition matrix using precomputed polynomial coefficients and can be used in a Rician fading environment without reconfiguration. It is integrated with a MIMO minimum-mean-squared-error decision feedback equalizer, and simulation results show that the system performance using the estimator can be made comparable to that employing a Kalman estimator under a broad range of channel conditions.
Citation
Kho, Y.H., Taylor, D.P. (2008) MIMO Channel Estimation and Tracking Based on Polynomial Prediction with Application to Equalization. IEEE Transactions on Vehicular Technology, 57(3), pp. 1585-1595.
This citation is automatically generated and may be unreliable. Use as a guide only.
Keywords
equalizers; estimation; fading channels; mobile communication; multiple-input–multiple-output (MIMO)