Seismic Retrofitting of Unreinforced Masonry Buildings in Italy
(2006)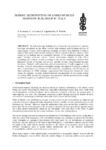 Publisher
University of Canterbury. Civil and Natural Resources Engineering
Collections
Authors
Frumento, S.
Giovinazzi, S.
Lagomarsino, S.
Podestà, S.
show all
Abstract
The Italian heritage building stock is dominated by unreinforced masonry buildings widespread on the whole territory with rammed earth buildings peculiar of some regions. A major effort is given to strengthen or retrofit these buildings in order to improve their safety under seismic loading as well as to preserve them as memory of the ancient art of builders and as constitutive elements of the anthrop-environment. This paper describes traditional seismic retrofit interventions adopted in Italy. These retrofitting interventions, revised according to the modern technologies, derived from historical concept of aseismic devices (i.e. metallic tie-rods, circumferential tie-rods, buttresses, "diatoni", wall connections, partial reconstruction of walls) suggested to the builders' crafts by observation of earthquake damage and imposed by the past technical rules. A good degree of confidence on the feasibility, compatibility and effectiveness of these techniques for URM buildings is guaranteed after having been extensively tested during the centuries. Recently, technical national code-guidelines for the seismic retrofit of existing URM masonry buildings have been prepared with the specific purpose to help practitioner engineers to implement these solutions.
Citation
Frumento S., Giovinazzi S., Lagomarsino S., Podestà S. (2006) Seismic Retrofitting of Unreinforced Masonry Buildings in Italy. Napier, New Zealand: New Zealand Society of Earthquake Engineering 2006 Conference (NZSEE 2006): Remembering Napier 1931 - Building on 75 Years of Earthquake Engineering in NZ, 10-12 Mar 2006.
This citation is automatically generated and may be unreliable. Use as a guide only.
Related items
Showing items related by title, author, creator and subject.
Vallis, Stacy

;

Giovinazzi, Sonia

;

Abeling, Shannon

;

Ingham, Jason

;

Galvez, Francisco

(

2017

)

Unreinforced masonry churches in New Zealand, similarly to everywhere else in the word have proven to be highly vulnerable to earthquakes, because of their particular construction features. The Canterbury (New Zealand) ...

Bothara, J.K.

;

Dhakal, Rajesh

;

Mander, J.B.

(

University of Canterbury. Civil and Natural Resources Engineering

,

2010

)

This paper presents the results of an experimental investigation carried out to investigate the seismic performance of a two storey brick masonry house with one room in each floor. A half-scale building constructed using ...

Dizhur, D.

;

Ingham, J.

(

Quake CoRE

,

2016

)

One of the most critical deficiencies of historic clay brick unreinforced masonry (URM) buildings [1] is the out-of-plane failure mechanism induced by lateral earthquake loads [2-4]. This failure mechanism is inhibited ...