Report on animals exposed to GM ingredients in animal feed
(2009)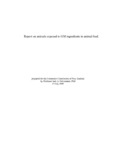 Type of Content
Reports
Publisher
University of Canterbury. Biological Sciences
Citation
Heinemann, J.A. (2009) Report on animals exposed to GM ingredients in animal feed. Commerce Commission. 49 p.
This citation is automatically generated and may be unreliable. Use as a guide only.
Related items
Showing items related by title, author, creator and subject.
Kross, S.M.

;

Tylianakis, J.M.

;

Nelson, X.J.

(

University of Canterbury. Biological Sciences

,

2012

)

Anthropogenic landscapes can be rich in resources, and may in some cases provide potential habitat for species whose natural habitat has declined. We used remote videography to assess whether reintroducing individuals of ...

Aune, Anna

;

Fenner, Kate

;

Wilson, Bethany

;

Cameron, Elissa

;

McLean, Andrew

;

McGreevy, Paul

(

MDPI AG

,

2020

)

© 2020 by the authors. Licensee MDPI, Basel, Switzerland. Horse trainers and riders may have preconceived ideas of horse temperament based solely on the sex of the horse. A study (n = 1233) of horse enthusiasts (75% of ...

Jackson, R.R.

;

Nelson, X.J.

;

Sune, G.O.

(

University of Canterbury. Biological Sciences

,

2005

)

Spiders do not feed directly on vertebrate blood, but a small East African jumping spider (Salticidae), Evarcha culicivora, feeds indirectly on vertebrate blood by choosing as preferred prey female mosquitoes that have ...