Investigation into the Validation of the Shell Fatigue Transfer Function
(2010)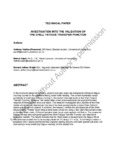 Type of Content
Conference Contributions - Published
Publisher
University of Canterbury. Civil and Natural Resources Engineering
Collections
Authors
Stubbs, A.,
Saleh, M.F.,
Jeffery-Wright, H.
show all
Abstract
In the structural design of highways, asphalt concrete layers are designed to withstand fatigue cracking caused by the repetitive flexing under traffic loading. The current Austroads design guidelines for predicting fatigue cracking in the asphalt concrete layers is the Shell Fatigue Transfer Function. However, this model often under or overestimates the asphalt thickness required of New Zealand structural roads. The research investigates the suitability of the Shell model and examines alternatives that would be more appropriate for a typical New Zealand dense graded hot mix asphalt. In addition, the research verifies the discrepancies of the Shell fatigue model. Thirteen beam fatigue tests were carried out using a four point flexural test under a constant strain mode. Different constant strain levels were applied until failure. The measured fatigue life was also compared against the Shell Fatigue Transfer Function and alternative prediction models. The results indicate that the Shell model underestimates the fatigue life of this particular asphalt mix by an average factor of 5.5 (range 3.1—8.9). A new fatigue model is proposed which would provide the New Zealand roading industry with both greater precision and cost savings when predicting fatigue cracking for this asphalt mix.
Citation
Stubbs, A., Saleh, M., Jeffery-Wright, H. (2010) Investigation into the Validation of the Shell Fatigue Transfer Function. Christchurch, New Zealand: 2010 IPENZ Transportation Conference (IPENZ 2010), 14-17 Apr 2010.
This citation is automatically generated and may be unreliable. Use as a guide only.