Ethyl (E)-4-(Oxo-[1,3]thiazinan-2-ylidene)ethanoate
(2004)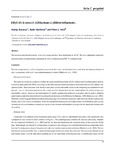 View/Open
Type of Content
Journal Articles
Publisher
University of Canterbury. Chemistry.
ISSN
1600-5368
Collections
Authors
Baranac, M.,
Markovic, R.,
Steel, P.J.
show all
Abstract
The structure and stereochemistry of the title compound have been determined at 163 K. The two independent molecules each possess an extended planar conformation with an intramolecular NH···O hydrogen bond.
Citation
Baranac, M., Markovic, R. and Steel, P.J. (2004) Ethyl (E)-4-(Oxo-[1,3]thiazinan-2-ylidene)ethanoate. Acta Crystallographica E, 60, pp. o484-o485.
This citation is automatically generated and may be unreliable. Use as a guide only.