Innovation and self-organisation: The documentation of Central Character story
(2010)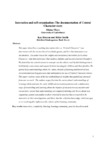 Type of Content
Journal Article
Publisher
University of Canterbury. School of Educational Studies and Human Development
ISSN
1174-6122
Collections
Authors
Mayo, E.,
Henson, K.,
Smith, H.
show all
Abstract
This paper describes a teaching innovation where a "Central Character" was interwoven with the stories shared in a kindergarten, and how that innovation was documented. The paper traces the origins and evolution of the notion of a Central Character, what directed it and what children, families and teachers learned through it. We found that the central character concept was the vehicle used by this kindergarten to build family connections and support holistic learning for children and their families. We gained deep understandings about the values, threads of learning and historical and environmental teaching practices that underpinned the use of Central Character stories. This paper explores some of the key methodological insights that guided and emerged from our research. The authors argue first that the sociocultural understandings of learning which underpin the early childhood curriculum point towards collaborative ways of researching and learning about the impacts of our practices as teachers and researchers, second that understandings of complexity thinking and theory about selforganising systems can enable teachers involved in practice-based research to be innovative in their investigations, and third, that the collective knowledge which emerges as we work together influences the culture of the learning community.
Citation
Mayo, E., Henson, K., Smith, H. (2010) Innovation and self-organisation: The documentation of Central Character story. New Zealand Research in Early Childhood Education, In press.
This citation is automatically generated and may be unreliable. Use as a guide only.
Keywords
innovation; complexity thinking; learning community; practice-based research