Evaluation of low-flow frequency analysis methods
(2000)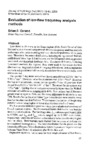 View/Open
Type of Content
Journal Articles
Publisher
University of Canterbury. Civil and Natural Resources Engineering
Collections
Abstract
Low flows in 21 rivers in the Otago region of the South Island of New Zealand were estimated using several different frequency analysis methods and compared to assist in setting minimum flows for protection of instream uses. Theoretical frequency distributions, including the log-normal, Weibull, and Extreme Value Type 1 distributions, and the Gringorton plotting position were used with historical discharge data. Goodness-of-fit tests, including L-moment methods for regional data, were used to determine the best distributions. Regional analysis for ungauged locations, such as regression methods using catchment characteristics and low-flow contour maps, were also evaluated. The specific 7-day mean annual low flows ranged from 0.23 1 s-1 km-2 to 7.76 1 s-1 km-2. The mean value for all stations was 2.62 1 s-1 km-2. Based on the log-normal estimate, values for the specific 7-day 10-year low flow ranged from 0.01 1 s-1 km-2 to 3.93 1 s-1 km-2. The mean for all stations was 1.31 1 s-1 km-2. The log-normal estimate was usually higher than the Weibull estimate with differences ranging up to 46%. Few stations had differences greater than or equal to 20%, and the mean difference for all stations was 13%. Results for the Extreme Value Type 1 distribution were usually lower than for the other two distributions. There was no clear pattern of the plotting position values being higher or lower than the theoretical estimates. The L-moments method is good technique for evaluation of goodness-of-fit and regional analysis. The Generalised Pareto distribution was best for most individual stations. For the Otago sites, LCV values ranged from 0.1808 to 0.5694, and LSK and LKUR values ranged up to 0.3895 and 0.6186, respectively. Only one station had a discordancy value considerably higher than the others. Heterogeneity tests showed that the group of stations can be considered homogenous. The best distribution for the group was the Generalised Extreme Value distribution, but the 3-parameter log-normal and Extreme Value Type 1 distributions also fit the data well. Regression equations can be used for very rough estimates of low flows, but more detailed data from nearby stations and evaluation of catchment characteristics are needed for ungauged sites, especially where minimum flows are proposed. The detailed evaluation of historical discharge data for stations across the region can improve low-flow contour maps that could be useful for ungauged locations. The techniques used in this study can help to provide a sound scientific basis for delineating minimum flows and protecting instream values.
Citation
Caruso, B.S. (2000) Evaluation of low-flow frequency analysis methods. Journal of Hydrology New Zealand, 39(1), pp. 19-47.
This citation is automatically generated and may be unreliable. Use as a guide only.