End Expiratory Volume Can Be Estimated Using a Stress Strain Approach
(2009)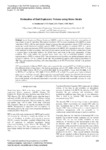 View/Open
Type of Content
Conference Contributions - Published
Publisher
University of Canterbury. Mechanical Engineering
ISBN
978-3-902661-49-4
Collections
Authors
Sundaresan, A.,
Hann, C.E.,
Chase, J.G.,
Shaw, G.M.
show all
Abstract
Acute Respiratory Distress Syndrome (ARDS) results in collapse of alveolar units and loss of lung volume at end of expiration. Mechanical ventilation (MV) is used on patients with ARDS or Acute Lung Injury (ALI), with the end objective being to increase the end expiratory volume (EEV) and hence increasing overall functional residual capacity (FRC). Simple methods to estimate EEV at a given positive end expiratory pressure (PEEP) level in patients with ARDS/ ALI currently do not exist. Current viable methods are time consuming, relatively invasive and not model based. Previous studies have found a constant linear relationship between the global stress and strain in the lung independent of lung condition. This study utilizes the constant stress strain ratio and an individual patient's volume responsiveness to PEEP to estimate EEV. The estimation model identifies two global parameters that can be used to estimate EEV in a patient, β and mβ. The parameter β captures physiological parameters of FRC, lung and respiratory elastance, and varies depending on the PEEP level used, and mβ is the gradient of β vs PEEP. EEV was estimated at different PEEP values and compared to the measured EEV for 12 different patients with different levels of lung injury. The median percentage error is 18% (IQR: 6,49) for PEEP = 5 cm H2O, 10% (IQR: 9,18) for PEEP = 7 cm H2O, 28% (IQR: 12,33) for PEEP = 10 cm H2O, 3% (IQR: 2,10) for PEEP = 12 cm H2O and 10% (IQR: 9,11) for PEEP = 15 cm H2O. The results were further validated using a cross correlation test and a linear regression was performed between the estimated and measured EEV with a median R2 of 0.948 (IQR: 0.915,0.968 ; 90% CI: 0.814,0.984). This simple approach can be done at the bedside with minimal intervention to provide an estimate with reasonable accuracy to track patient condition.
Citation
Sundaresan, A., Hann, C.E., Chase, J.G., Shaw, G.M. (2009) End Expiratory Volume Can Be Estimated Using a Stress Strain Approach. Aalborg, Denmark: 7th IFAC Symposium on Modeling and Control in Biomedical Systems (MCBMS09), 12-14 Aug 2009. 7, 1, 6pp.
This citation is automatically generated and may be unreliable. Use as a guide only.