Model Development and Experimental Validation of Damage-Avoidance Structural Connections with Unbonded Post-Tensioned Prestress
(2009)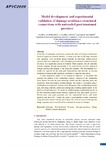 View/Open
Type of Content
Conference Contributions - Other
Publisher
University of Canterbury. Mechanical Engineering
Collections
Authors
Rodgers, G.W.,
Chase, J.G.,
Mander, J.B.
show all
Abstract
In the field of earthquake engineering, damage-free structural design methods have received significant research attention in recent years due to the large economic cost associated with sacrificial design methods. In particular, jointed precast concrete and steel connections with unbonded, post-tensioned prestress has been the focus of a significant amount of research. These systems provide controlled inelastic response through gap-opening at the beam-column interface instead of through yielding and damage of the structural elements. The development of a model that captures all the associated characteristics and provides an accurate prediction of response adds significant confidence in response simulations A time-incremental model of the connection behaviour is developed that accounts for yielding of the prestressing tendons, reduction of the prestressing force, friction between the post-tensioning tendons and the containing ducts, and asymmetry from non-centrally located tendons. The model is formulated using a combination of incremental versions of the Menegotto-Pinto and Ramberg-Osgood type, providing a smooth, continuous loading and unloading approximation to the piecewise linear behaviour. The model is validated against experimental results for an 80% full-scale jointed precast concrete connection with inputs drifts up to 4%. Results show very good agreement with the experimental results, with errors generally less than ±5%. Overall, the model is generalisable to other connections using steel and concrete rocking connections that utilise this type of damage-free design approach and is a useful tool for evaluation of connection designs.
Citation
Rodgers, G.W., Chase, J.G., Mander, J.B. (2009) Model Development and Experimental Validation of Damage-Avoidance Structural Connections with Unbonded Post-Tensioned Prestress. Christchurch, New Zealand: 13th Asia-Pacific Vibrations Conference, 22-25 Nov 2009.
This citation is automatically generated and may be unreliable. Use as a guide only.
Keywords
unbonded; post-tensioned prestress; damage-avoidance design; DAD; concrete structures