Energy-dissipative semi-active tuned mass damper building systems for structural damage reduction"
(2009)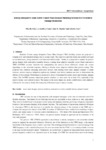 View/Open
Type of Content
Conference Contributions - Published
Publisher
University of Canterbury. Mechanical Engineering
Collections
Authors
Chey, M.H.,
Chase, J.G.,
Mander, J.B.,
Carr, A.J.
show all
Abstract
Realistic 12-story energy-dissipative Tuned Mass Damper (TMD) building systems are proposed to mitigate story and structural damage due to seismic loads. The upper two and four stories are isolated and used as the tuned mass, saving excessive non-functional added weight. Further, it is proposed to replace the passive spring damper with semi-active resetable devices, creating more adaptive resetable device based semi-active TMD (SATMD) systems. Semi-actively manipulating the reaction forces effectively retunes the system depending on the structural response, offering a broader more adaptive solution than passive tuning. This proposal thus combines emerging semi-active devices with existing tuned mass damper concepts to create extended seismic response mitigation applications. Inelastic time history analyses are used to demonstrate the efficacy of this concept. Performance is measured in terms of dissipated hysteretic energy and weighted damage values. The SATMD systems outperform passive solutions in most cases, by at least 10%, especially if the passive tuning is not optimal or exact. The impact on the mode shapes and modal contributions is also markedly different for the systems, further illustrating the differences in performance obtained.
Citation
Chey, M.H., Chase, J.G., Mander, J.B., Carr, A.J. (2009) Energy-dissipative semi-active tuned mass damper building systems for structural damage reduction". Yanji, China: Proc 2009 YUST International Symposium, 29 Jun-4 Jul 2009.
This citation is automatically generated and may be unreliable. Use as a guide only.
Keywords
tuned mass damper; seismic isolation; semi-active control; resetable device; seismic hazard