Diabetic Retinopathy Screening Using Computer Vision
(2009)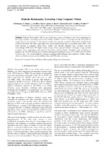 View/Open
Type of Content
Conference Contributions - Published
Publisher
University of Canterbury. Mechanical Engineering
ISBN
978-3-902661-49-4
Collections
Authors
Hann, C.E.,
Chase, J.G.,
Revie, J.A.,
Hewett, D.,
Shaw, G.M.
show all
Abstract
Diabetic Retinopathy (DR) is one of the main causes of blindness and visual impairment in developed countries, stemming solely from diabetes mellitus. Current screening methods using fundus images rely on the experience of the operator as they are manually examined. Automated methods based on neural networks and other approaches have not provided sensitivity or specificity above 85%. This work presents a computer vision based method that directly identifies hard exudates and dot haemorrhages (DH) from 100 digital fundus images from a graded database of images using standard computer vision techniques, and clinical observation and knowledge. Sensitivity and specificity in diagnosis are 95-100% in both cases. Positive and negative prediction values (PPV, NPV) were 95-100% for both cases. The overall method is general, computationally efficient and suitable for further clinical trials to test both accuracy and the ability to the track DR status over time.
Citation
Hann, C.E., Chase, J.G., Revie, J.A., Hewett, D., Shaw, G.M. (2009) Diabetic Retinopathy Screening Using Computer Vision. Aalborg, Denmark: 7th IFAC Symposium on Modeling and Control in Biomedical Systems (MCBMS09), 12-14 Aug 2009. Proceedings of the 7th IFAC Symposium on Modelling and Control in Biomedical Systems, 7, 1, 298-303.
This citation is automatically generated and may be unreliable. Use as a guide only.
Keywords
computer vision; diabetes; retinopathy; diagnosis; automation